Did you know that your email open rate is one of the most important performance metrics you can track?
"Without a good open rate, the greatest campaign is a non-starter," says OptinMonster. So if your open rates are a bit lackluster, read on to find out how you can improve them.
Calculate Your Email Open Rate
If you're using an email provider, your email open rates should already be calculated for you. If not, simply divide the number of unique opens by the number of emails sent, minus the number of bounces. In other words, out of the people who actually received your email, your open rate is the percentage of people who opened that email.
Now, what's the average email open rate that you can expect to see?
According to Epsilon, the average open rate for the fourth quarter of 2018 was 29.4% across all industries. That being said, when you take a deeper look at the open rates for each industry, you'll notice that there are some significant swings depending on which industry you fall in.
This is evident, for example, in the click rates for Constant Contact customers by industry (as of March 2019):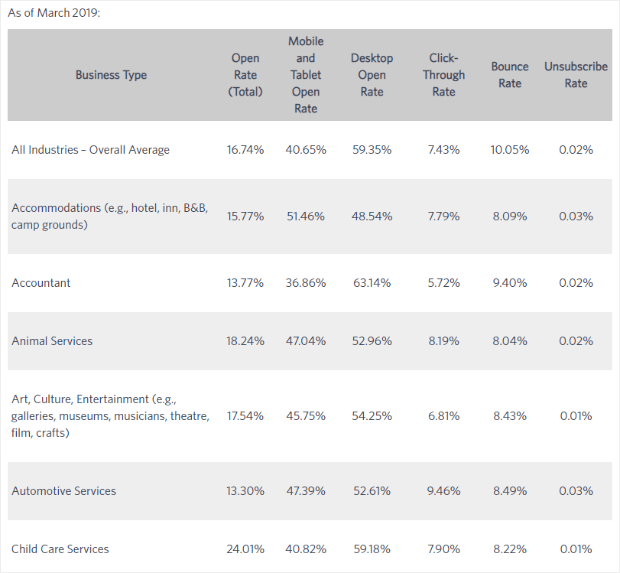 While these statistics present a good starting point, keep in mind that no two email lists are the same—even within the same industry. To get the most benefit from auditing your email marketing statistics, you'll want to measure and track your open rates and other applicable statistics.
By doing so, you'll be able to see what's working—and what isn't—for your own email list.
5 Steps to Gauge the Health of Your Open Rates
"Even when you know the average open rates for your industry, you can't set a truly realistic goal for your email open rates without benchmarking your current results," says OptinMonster.
Fortunately, the following 5 steps can help you with that:
#1 Graph Open Rates for the Past 4 Quarters
Review every email you sent over the past 3-12 months. Chart your open rates (and other statistics—like unsubscribe rates—rates, etc.) for all broadcast emails that you sent.
Here's an example from OptinMonster that shows you how that might look: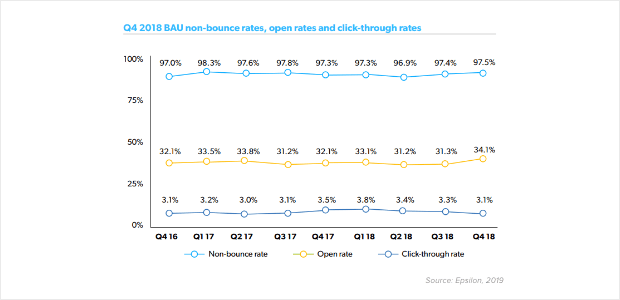 #2: Establish Average Open Rate
Next, calculate your average open rate (as well as averages for other statistics) for the past 4 quarters.
To find your average open rate during a specific period, add all of your individual open rates, and divide by the total number of emails sent during that period. This gives you a baseline. So the same for other desired statistics, too.
#3 Find Outliers
Next, take a look at any outliers (a value that "lies outside" most of the other values in a set of data), both good and bad.
Was there a particular email that performed really well—or very poorly? What's your theory as to why? Write down notes on each of these outliers.
In this chart (found on OptinMonster) you can see that all the open rates improved, except for Email 5: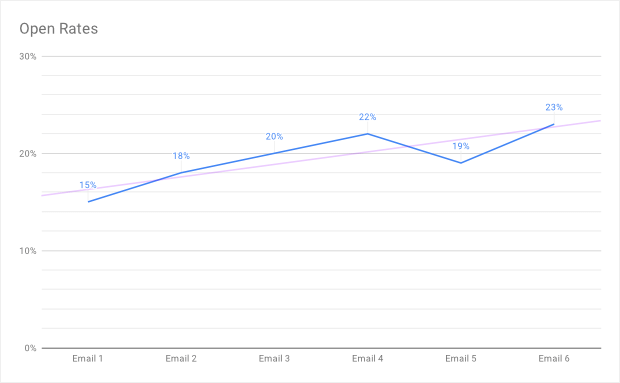 Now you can take a closer look at that email and analyze why it didn't do as well as the others.
#4 Pay Attention to Patterns
As you measure your open rates, pay close attention to emerging patterns. For instance, do particular topics do really well, while others perform poorly? Do your send times yield better results at a specific time of day than others? What subject lines seem to work best?
Be sure to take notes so you can use this information to improve your future email campaigns.
#5 Set Some Goals
Lastly, set goals for how you'd like to see your open rates—and other performance metrics—improve. Would you like to bump them up several percentage points over the baseline for a particular period? Make a game plan to get you there.
Refer back to the industry averages to see where you stand, but don't get preoccupied with these numbers—they should be used to help you establish a realistic goal for your own open rates.
Possible Reasons Your Open Rates are Low & What to Do About It
If you discover that your open rates are quite a bit lower than the industry average, you may have a problem that needs to be addressed. Here are possible reasons why your email open rates are lower than you'd like, and what you can do about it:
A) You purchased an email list
This can drop your open rates well below the industry average because your subscribers are unqualified.
Solution: Don't try to attract everyone and anyone
"Before asking anyone to join your email list, make sure to qualify them with a relevant lead magnet," suggests OptinMonster.
For instance, instead of using giveaways that the majority of people want (an iPad giveaway, for example), give away an item that would be of interest to your target customers, like a free sample of your product.
Aim to build an engaged email list of quality leads. After all, a small list that's genuinely interested in your products and/or services is better than a large list that doesn't care about your company or what you're offering.
B) You don't segment your list
Sending the same email to every individual on your list won't yield the kind of engagement you need for a successful email campaign. It's a lazy way to do email marketing. Plus, it's ineffective.
Solution: Group your list according to interests, purchase history, location, etc. 
Segmentation significantly increases the chances of your emails getting opened, because your subscribers will be more interested in the emails you send them.
In fact, segmented email campaigns perform 14.31% higher than non-segmented campaigns.
C) You send out your emails whenever it's convenient 
Sending out emails with no aim or strategy for what works best won't increase your open rates.
Solution: Schedule emails to go out on the days and the times that result in more opens and clickthroughs
According to CoSchedule, the best day of the week to send out emails is on Tuesday. If you send out more than one email during the week, choose Thursday as your second day.
As far as times, plan on scheduling your broadcast emails to go out at 6 AM, 10 AM, 2 PM or 8 PM. The CoSchedule diagram below explains why these times are effective:
D) Your Subject Lines are Boring 
People are inundated with boring subject lines every day, so unless your subject lines are creative and compelling enough to stand out, they're probably being ignored like the other emails in their inboxes.
Solution: Create subject lines that are direct and spark curiosity 
Direct subject lines tell the subscriber exactly what they can expect in the email. Someone who wants to know how to get 1K subscribers in 7 Days, for example, won't be able to resist opening an email with that subject line.
Enticing subject lines that compel people to open emails because they're curious to know what's inside are also very effective. After all, it's hard to resist a subject line like "I can't believe this just happened…"
Use both of these subject lines in your email marketing campaigns to keep things interesting for your subscribers. Not sure how to craft subject lines that get opened? Check out 164 Best Email Subject Lines to Boost Your Email Open Rates and 89 Effective Cold Email Subject Lines & How to Craft Them
E) You have lots of inactive subscribers
Having lot's of inactive subscribers on your list who haven't engaged with your emails for a long time hurts your inbox deliverability and results in lower open rates.
Solution: Clean up your email list
According to HubSpot, email lists decline by around 22% every year.
For subscribers who haven't engaged with your emails in the past 6 months or so, attempt to re-engage them with one last email campaign. If they don't respond, either unsubscribe them or switch their emails to a list of subscribers that are only emailed on rare occasions.
Another option if you have a list full of inactive subscribers, is to use a list cleaning service such as BriteVerify or TowerData. If you're not ready to go that route yet, check out Optinmonster's email scrubbing guide for a complete how-to.
The Takeaway
Your emails are only effective if they're actually getting opened. If your open rates aren't where you'd like them to be, use the tips and suggestions above to improve them.
Remember, if you don't measure your open rates, you won't be able to assess their performance. This makes it difficult—if not impossible—to determine effective and efficient email marketing strategies that work best for your business and your subscribers.
Find out how retailers like you are saving time and making money with the Rain POS system. POS, E-commerce, and Marketing all in one.
---
Also published on Medium.