My husband is a paint contractor who, until very recently, frequented a particular paint store because of his relationship with the manager. The manager greeted him by name, was aware of his needs, made sure his paint was mixed, carried the orders out to the car, and was very familiar with his account so he could answer questions and solve problems.
That manager isn't around anymore. And within the course of a month, my husband's opinion of this paint store plummeted. Among his long list of complaints, my husband expressed the following frustrations:
The employees don't bother to learn his name or get to know him as a person
The staff is undertrained and isn't interested in learning more than the basics
The employees don't bother to mix the paint or offer to carry it out
The staff is apathetic to customer needs and concerns
Odds are, my husband's not the only one who's noticed these unfortunate changes. Needless to say, the store risks losing a lot of clients if they don't change their attitude toward their customers and start repairing and building better relationships.
Customer Frustration Increases Churn
In today's competitive retail environment, losing a customer is one of the worst things that can happen to a business. Unfortunately, many businesses continue to make customer retention mistakes and fail to provide customer service experiences that encourage repeat business and customer loyalty.
That's a mistake.
If your company fails to provide positive retail experiences, frustrated consumers will quickly transform into customer churn. And because we live in a highly digital age, an unhappy customer can now share their opinion through social media and the web at any moment, negatively impacting your business.
According to SuperOffice, if customers aren't satisfied, 13% of them will tell to 15 or more people that they are unhappy. By contrast, 72% of customers will share a positive experience with 6 or more people.
While 67% of customers mention bad experiences as a reason for churn, only 1 out of 26 unhappy customers actually complain.The rest just leave.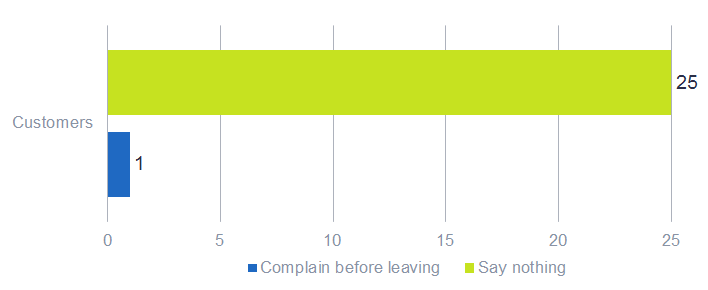 Keep in mind that just because your customer doesn't say anything negative doesn't mean they're happy with your service. The fact is, there's never room for indifference when it comes to your customers' satisfaction, especially if you want them to stick around and spread the word of your awesomeness to others.
How to Win Over Your Customers for Life
Building good customer relationships goes beyond offering great products and services or offering support when a customer needs assistance. As Viabl puts it, "Building unbreakable customer relationships requires you to convey that your business only exists to ensure your customers' success."
Here are 6 tips to help you build customer relationships that stick:
1. Be Human – Don't be a nameless, faceless business, suggests Kissmetrics. "Genuinely talk with your customers as a person representing the business. Address your customers by name, and tell them your name at the very beginning of your interaction.Talk to your customers as you would in person, not like you would in a press release."
"The greatest technology in the world hasn't replaced the ultimate relationship building too between a customer and a business: the human touch." ~ Shep Hyken
2. Get to know Your Customers as Individuals – Building a rapport with their customers should involve making an effort to learn about their individual needs and desires so you can provide a more personal experience.
Take the time to discover more about your customers before and after a transaction is completed, or do some research on social media to discover their interests and lifestyle habits. This will help you provide more value to your customers because you'll know what kind of offers to send them, what kind of products they prefer, what they like to read in terms of content, and how they like to shop.
In today's competitive retail market, you can help your business stand out by the kind of customer experience you deliver. Getting to know your customers' individual interests and needs will help you take your customer relationships to the next level, boosting retention and increasing repeat business.
3. Go Above and Beyond – "Research shows that just 'satisfying' customers isn't enough to guarantee they'll come back," according to bdc. "You need to go above and beyond. That's true whether you run a coffee shop where regulars want to feel like a part of the family or an auto-parts company whose customers demand high quality and responsive service."
Kissmetrics points out that the #1 reason for customer attrition is dissatisfaction with customer service. That means you need to do everything in your power to provide exceptional service to your customers on an ongoing basis.
It's important to note that 81% of companies with strong capabilities and competencies for delivering customer experience excellence are outperforming their competition. If you can deliver "above and beyond" service, you'll stand out in the sea of other companies.
"Exceed your customers' expectations. If you do, they'll come back over and over. Give them what they want – and a little more."

–Sam Walton
4. Set Realistic Expectations & Follow Through – "One of the most important factors that goes into an effective CRM strategy is providing customers and clients with realistic expectations — and following through with them," says Placemeter.
Mashable
suggests that when in doubt, "under-promising and over-delivering is preferable to setting wildly unrealistic expectations that you — or your company — simply can't deliver."
"When you get right down to the root of the meaning of the word "succeed," you find that it simply means to follow through."

~ F.W. Nichol 
5. Build Trust – "Customer trust is the center of every customer relationship," says MarTechExec. "Trust increases customer loyalty, boosts referrals, and increases sales. Trust makes or breaks a business's longevity."
Transparency is critical to building strong relationships and customer satisfaction. Hiding your flaws, being vague about your intentions, and not acting in the best interests of your customers diminishes trust and damages relationships.
"The toughest thing about the power of trust is that it's very difficult to build and very easy to destroy. The essence of trust building is to emphasize the similarities between you and the customer." ~ Thomas J. Watson
6. Be Courteous – Whether they're dealing with a sales rep or an account specialist, customers base their future business on the service they receive, according to bizfluent. If a representative of your company fails to be courteous, there's a good chance the customer will take his business elsewhere in the future.
Remember the Golden Rule? Live by it. Treat customers the way you'd want to be treated if you were in their shoes. Kindness will go a long way in convincing customers to stick around.
"It so much easier to be nice, to be respectful, to put yourself in your customers' shoes and try to understand how you might help them before they ask for help, than it is to try to mend a broken customer relationship." ~ Mark Cuban
Conclusion
Regardless of your business's specialty, improving customer relationships is the key to increasing retention, satisfaction and sales.
According to SuperOffice, a Walker study predicts that by the year 2020 customer experience will overtake price and product as the key brand differentiator. That means you have to know your customers better than ever before. Familiarizing yourself with customer wants, interests, and lifestyle habits will help you personalize every interaction.
If you make every interaction with your company smooth, pleasant and continuously better, you will build trust, boost repeat business, and increase customer loyalty.